January 19, 2023

techAdmin

0
The Ultimate Guide to On-page SEO in 2023
The power of on-page SEO can direct many new visitors and customers directly to your website. Additionally, you are entirely responsible for on-page SEO: Each page's topic and purpose are up to you. 
You get to choose whom that page is meant for. Additionally, you can select the keywords and phrases you want to target.
What is on-page SEO?
Optimizing your website's front-end and back-end components to rank in search engines and bring in new traffic is known as on-page SEO or on-site SEO. Content, site architecture, and HTML elements are all on-page SEO components.
Why is on-page SEO important?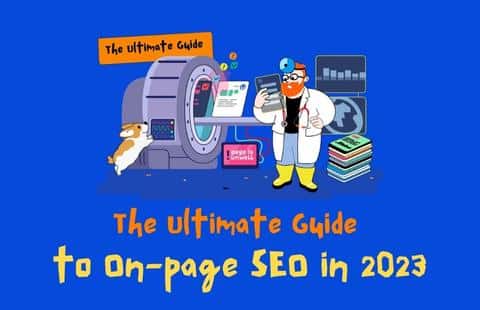 Because it tells Google everything about your website and the value you offer customers and visitors, on-page SEO is essential. It aids in the optimization of your website for both human users and search engine robots.
Your website needs to be optimized for search engines like Google to rank well and attract new visitors.
On-page SEO is known as "on-page" because visitors can see your changes to improve it (off-page and technical SEO elements aren't always visible).
You are entirely in charge of all aspects of on-page SEO; you have to do it right. Let's now talk about the components of on-page SEO.
There are three main types of on-page SEO factors:
Content elements
HTML elements
Site architecture elements
You'll see these elements divided into sections below.
Content Elements
The components of your website's content and copy are content elements. This section will primarily concentrate on creating high-quality page content to benefit your visitors and demonstrate to Google that your website offers value.
On-page SEO relies heavily on the page content. It describes your website and business to readers and search engines alike.
Selecting relevant keywords and subjects is the first step in creating high-quality content. Conduct keyword research by searching for terms in Google and looking at what comes up for other websites and competitors.
We'll discuss some of these best practices in greater detail below in our Checklist for writing high-quality page content:
Naturally, incorporate both short- and long-tail keywords.
Include relevant and engaging visual content.
Write specifically for your buyer personas.
Actively address the issue facing your audience.
Create content that people will want to link to and share.
Utilize CTAs on product pages and offers to optimize for conversions.
Your chance to convey value to Google and your site visitors is in the page's content; it is the core of the process of on-page SEO. Spend much money creating and optimizing high-quality content because it is the foundation of all other aspects of on-page SEO.
HTML Elements
The elements in your source code refer to as HTML elements.
One of the most crucial aspects of SEO is your website's page titles, also called title tags.
Titles inform visitors and search engines about the content on the relevant pages.
Include the page's focus keyword in the title to ensure that your site's pages rank for the right intent. Make use of your keyword as naturally as you can.
The HTML elements <h1>, <h2>, and <h3> are referred to as headers and are also referring to as body tags.
These tags help readers organize your content and help search engines determine, based on search intent, which parts of your content are most important and relevant.
Image Alt-text
Image alt-text functions similarly to SEO for your images. Because Google now provides almost as many results based on images as they do on text, this tells Google and other search engines what your ideas are about.
It indicates that customers may find your website through your images. However, you must include alt-text in your images for them to perform this action.
Structured Markup
Structured markup or structured data is the process of "marking up" the source code of your website to make it easier for Google to find and understand various content elements.
The secret to the featured snippets, knowledge panels and other content features that appear when you search for something on Google is structured markup. When your content is shared on social media, this is also how your detailed page information appears neatly.
Site Architecture Elements
The features that make up your website and its pages are called "site architecture elements." Your website's structure can make it easier for Google and other search engines to crawl the pages and their content.
Page URLs: Both readers and search engines should be able to understand your page URLs easily. Creating subpages, blog posts, and other internal pages is essential for maintaining consistency in your site's hierarchy.
Internal Linking: Linking to other helpful pages on your website is known as internal linking.
Internal links are essential for on-page SEO because they direct visitors to other website pages, demonstrating to Google that your site is useful and valuable.
Additionally, the longer visitors stay, the more time Google has to crawl and index your website pages. This helps Google take in more information about your website and move it up on search results pages.
Mobile Responsiveness: It is essential to select a website hosting service, design, theme, and content layout that are mobile-friendly and readable. Utilize the Mobile-Friendly Test tool provided by Google if you need clarification on your website's mobile readiness.
Site Speed: Your website must load quickly on desktop computers and mobile devices. Page speed is essential for on-page SEO.
The overall user experience is of utmost importance to Google. Google is aware that visitors to your website are more likely to leave if it loads slowly or haphazardly. In addition, site speed can affect ROI and conversions.
On-Page SEO Checklist
You've come to the right place if you've been looking for a way to organize and keep track of the various on-page SEO factors. An Excel file that serves as our On-Page SEO template enables you to coordinate pages and keywords and track changes in a single location has been updated by the HubSpot marketing team.
1. Conduct an SEO audit and define your site architecture.
You will need to arrange and put your website's pages in order of importance now that the template includes a primary index. Start by determining where your existing pages currently reside within the architecture of your website.
This should be done in column A. Note whether a page is your homepage (ideally, you only need one), a page in your primary or secondary navigation menu, an internal page, Etc.
2. Update URLs, page titles, and Meta descriptions.
Check your current page titles, Meta descriptions, and URLs to see if they need to be changed. Anything under 60 characters is acceptable for page titles.
Page Meta descriptions should be between 155 and 160 characters extended. This is long enough to ensure the ellipses don't cut off any explanations. 
Check to see that the keywords you use in this space are consistent. Although writing a quality meta description is easy, it is just as important to consider the page's content.
3. Make sure your focus keyword is in your URL
As previously stated, include your keyword in your URL. Consider the scenario in which you own a yoga studio called AD Yoga. Videos from your classes can be found on your website. 
You should include the keyword "hot yoga online classes" in your URL because it is the keyword for this page. 
4. Don't keyword stuff
We just talked about many examples where keywords are valuable and necessary for SEO. "Keyword stuff" is one mistake many first-time SEO professionals make when working to improve their on-page SEO.
Keyword stuffing can hurt the SEO of your website and pages and make readers and visitors feel like you're spamming them.
5. Review and edit page content as needed
Be persuasive! Good copy must be thorough, honest, and provide solutions. Write about how you can assist your target audience and for them. Double-check your spelling and grammar to ensure that your content is compelling and error-free.
Aim for at least 500 words per page and format the content with headers and subheaders to make it easier to read and digest.
6. Optimize your visual content
We previously discussed image alt text. This is how you should optimize your visual content, and remember to include your keyword in the alt text of your photos. It will offer the possibility of ranking in image searches and assisting with the page's SEO.
7. Add internal links and External links
Be sure to include more than just your keywords in your anchor text. The objective is to have fewer keywords than possible but to make it simple for visitors to navigate your website.
Considering the numerous reasons why internal linking is crucial to on-page SEO, including external links throughout your page may seem counterintuitive. External links, on the other hand, are essential.
Google will be aware of your page's credibility and reliability if you link to reputable and reliable sites. Your visitors, as well as Google, want to know that your website is well-referenced.
Go for the best On-page SEO Service in Dubai.
Engaging and extensive content is essential to the success of an on-page SEO Dubai strategy. Your website's chances of getting a high search engine ranking can be improved by including exciting and rich on-page content. 
An online platform looking at user experience (UX) can improve your website's on-page SEO. Bubblegum Search, for instance, scored 100% certainty and 78% correct spots when determining whether a message matches its target audience. ZabTech is here with you to help your business is listed on major search engines.