December 15, 2022

techAdmin

0
The Complete Website Maintenance Checklist Guide for 2023
Have you invested a lot of money and time in creating a website? But a website is something other than something that can work independently. It needs regular maintenance. So what is website maintenance? Why is it important? Let's find out.
What is Website Maintenance? 
Simply we can define, website maintenance is ensuring your website is working well and keeping it up to date to boost traffic. Website maintenance services are crucial for retaining, attracting, and engaging customers.
Why is a Website Maintenance checklist Important?
The first thing potential customers look for is your website. They also look for helpful information, value, and professionalism. This is where website maintenance comes into play. 
Your website will have a better search ranking if it is updated regularly with helpful content. In addition, there are numerous other reasons to maintain your website regularly:
Improves Customer Satisfaction 
Think about things from the perspective of a visitor to your website. You will be irritated if there are numerous broken links and a slow loading speed. However, you will be content if the website is professionally maintained, has a responsive design, and contains relevant content.
Providing a positive customer experience is, after all, your top priority. Your website will impress your visitors and be inspired them to use your product or service. In addition, they promote your brand by recommending it to their family and friends.
Google adores websites that are well-optimized and provide the most pertinent information. However, poor redirects on your website can hurt your company's search engine ranking. 
You could lose your indexation if Google crawls your website and discovers errors. Your website's primary function is to generate traffic, so it needs to be regularly updated with relevant content, news, keywords, Etc.
The safety of your website is the most important thing, especially if it holds sensitive data. Website maintenance involves regularly installing security patches and software updates to keep your website safe and secure. Hackers may be attracted to a website that still needs to be updated. In addition, ignoring security issues for an extended period may cause downtime or even a complete loss of business.
What are the tasks that go into maintaining a website?
We know that a website is comparable to a vehicle because it requires routine upkeep or deteriorates over time. The essential website maintenance tasks that you should complete at least once per month are as follows:
1.Review Search Console
Suppose you regularly check the Google Search Console. In that case, you'll be able to point out potential problems before they affect your online marketing efforts. The tool will let you know if an issue prevents preventing search engines from indexing your pages or if malware is on your website.
2.Check for Broken Links
Visitors irritated by broken links will lose interest in your organic leads. Additionally, on the off chance that the web index bots can't find connections to pages, it will influence your positioning.
The following are some possible causes of broken links:
A page I moved is still linked to other pages.

Pages that no longer exist are the destination of a tie.

A misspelling in the link.

Removing a plugin that causes your content to contain links.

An image with a different file name was replaced.
3. Update your CMS and Plugins
Your CMS (Content Management System) should be updated monthly because new vulnerabilities are discovered frequently.
Deficiencies in CMS or plugins make it easy for hackers to gain access. Logging into the admin panel is the easiest way to accomplish this.
4.Review Analytics
The best way to evaluate the performance of your website and identify potential issues is to review Analytics. You can see trends in traffic, bounce rates, engagement metrics, and other metrics through analytics. This will help you understand exactly what changes will be made immediately and create content your customers are most interested in.
The Ultimate steps for Website Maintenance Checklist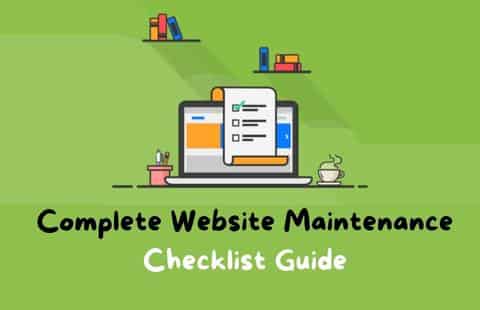 Here is a complete checklist of website maintenance activities you should follow:
Weekly Website Maintenance Checklist
If there are any 404 errors, rectify them.

Improve your SEO traffic  

by publishing one or more blogs.

Verify that each form functions properly.

 Please write a blog post and distribute it to your network.

Make sure no links are broken.

Update software and core plugins.
Monthly Website Maintenance Checklist
Run security checks.

Test loading speed and address issues right away.

Examine important statistics.

Make local searches visible.

Change the content so that it is relevant.

Analyze the content that gets the most views and the least.
Quarterly Website Maintenance Checklist
Check for areas where the pages could be improved.

Update images and graphics.

Update the Meta titles and descriptions.

Control the backups of your website.

Check if forms, popups, Etc. are working as intended.

Make sure your website works on the best browsers and devices.

If the uptime logs show less than 99.9%, take action. Ensure that your website is mobile-friendly.
Annual Website Maintenance Checklist
Consider a website architecture update.

Update the copyright date and other references in the footer.

Get the domain names renewed.

Examine the content for accuracy.

Bring your most popular blogs up to date.
How Can I Locate Reliable Website Maintenance Services?
You are already aware of the importance of website maintenance tasks for your business and how complicated they are. But it takes time to pick the exemplary website maintenance service. Take note of the following:
Be aware of the pricing. 
Before selecting a web maintenance service, consider the pricing structure because prices can vary greatly. Prices are influenced by a number of factors, including your company's size and website complexity, among other features like e-commerce.
Know what you need. 
When it comes to maintenance plans, different companies offer different services. Therefore, it is essential to be crystal clear about your requirements. Please make a list of the web maintenance services you require with the help of an expert, and select a company that offers them.
Choose a Reputed Company
After narrowing your choices down to a few, research to learn more about each. You can look at customer reviews, social media, and other things online. 
Website upkeep may have been your top priority just now. We hope this blog has clarified its significance and advantages for you. Even though you can do these things independently, hiring a professional website maintenance company is always best.