ZABTECH - HOME/OFFICE AUTOMATIONS
Home Automation System Services
Home automation system services are allow you to control various aspects of your home or office environment, typically through a central control panel or hub. Automation services include lighting and temperature control, security and surveillance, energy management, and entertainment systems. Many home automation system are now controlled via mobile apps, allowing you to manage your environment even when you're not at home or in the office. 
How do home automation system work In Dubai?
ZabTech helps you automate and manage your home or office space. They can control lights, temperature, security, and other systems in your home or office. Home Automation system can make your life easier by reducing energy consumption, saving time, and improving safety.
There are many benefits to automating your home or office, including energy savings, increased security, and convenience. Automated systems can help you save money on your energy bills by controlling lighting and temperature levels. They can also provide an extra layer of security by monitoring doors and windows. Home Automation systems can also make your life more convenient by controlling appliances and entertainment systems.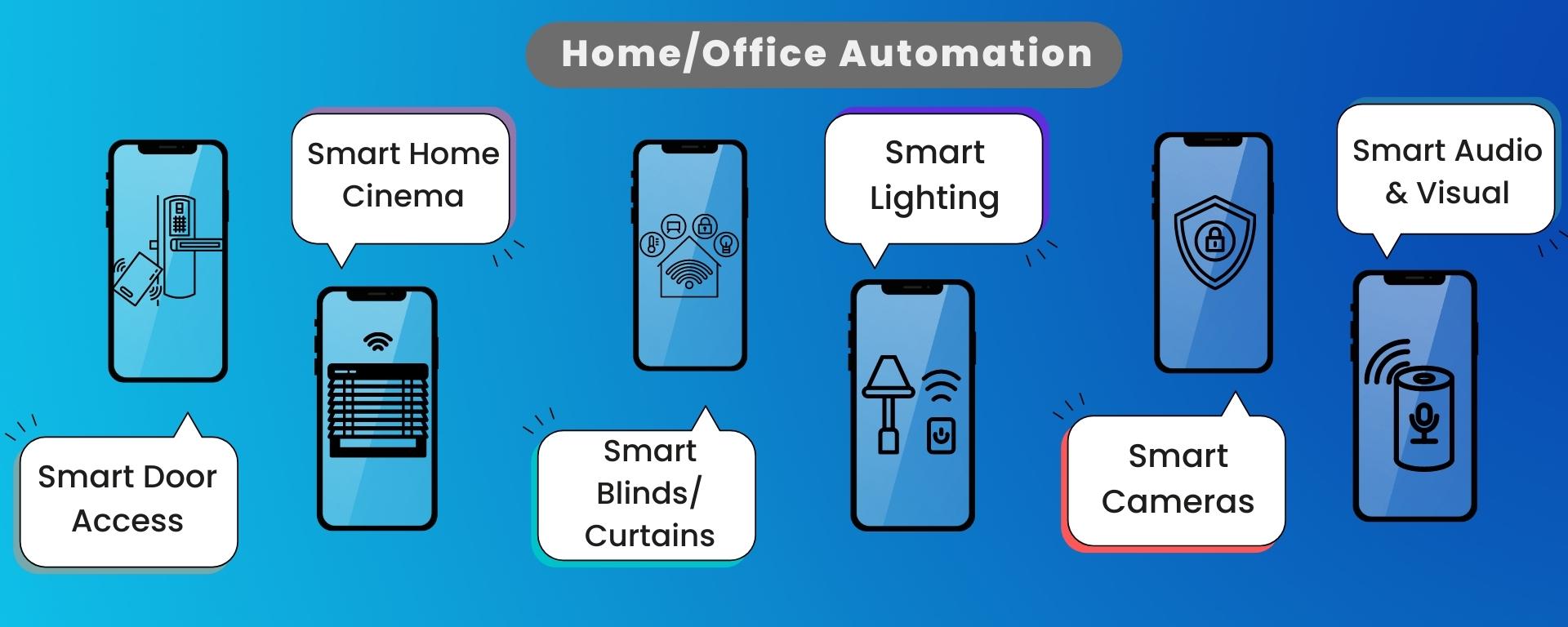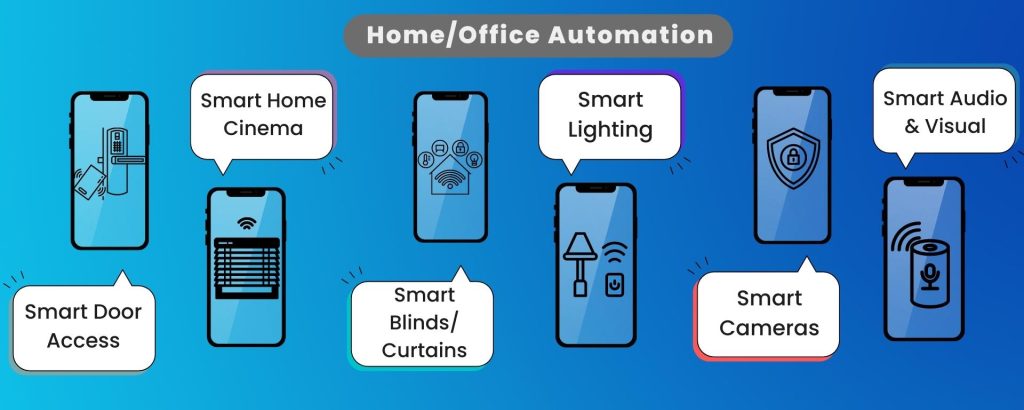 What are some of the best home automation system?
There are many excellent services for automating your home or office. Here are just a few of the best:
IFTTT: 
This service allows you to automate all sorts of tasks, from turning off the lights when you leave the house to sending yourself a reminder when you get an important email.
Stringify: 
This service is perfect for automating your home. With Stringify, you can control all your smart devices from one place and create rules to automate tasks like turning on the lights when you get home or opening the blinds in the morning.
SmartThings: 
It is another excellent service for automating your home. With SmartThings, you can control all your smart devices from one app and set up rules to automate tasks like turning on the lights when you get home or opening the blinds in the morning.
Nest: 
Nest is an excellent service for automating your home temperature. With Nest, you can set up rules to automatically adjust the temperature based on the time of day or whether someone is home.
Philips Hue: 
Philips Hue is a great lighting system that allows you to set up different scenes. There are many alternatives in terms of controlling your home's smart lights. However, Philips Hue is one of the maximum acclaimed. Philips Hue boasts an extensive range of linked lighting fixtures alternatives and low-priced starter kits. The legit Philips Hue app is on your fundamental manipulation needs if you've got Philips Hue lights. It's short and smooth to use. It additionally gives an acceptable form of features. You can alter the shade and brightness of your lamps.
Alexa:
Alexa is Amazon's cloud-primarily based voice carrier to be had on hundreds of thousands of gadgets from Amazon and third-celebration tool manufacturers. Ease of conversation and portability are the standard benefits of Amazon Alexa. The following motives why it's an excellent device for youngsters and adults. 
 It helps a huge variety of amusement 

 People may have the choice of controlling the clever domestic 

 The high-quality component is that you'll manage Alexa from everywhere 

 Alexa may be without problems set up at the home windows 

 It can be a high-quality digital assistant
Wiz:
WiZ is called a less expensive answer for smart lighting fixtures. By presenting creative lighting fixtures that are less expensive to consumers, WiZ hopes to make its Smart lamps more excellent accessible. We examined the smart lighting fixtures and accompanying add-ons from WiZ for some weeks. We must inform you of the tremendous and terrible factors of these `less expensive` innovative lighting fixtures. 
 Good high-satisfactory bulbs that don't cost a fortune 

 Connects without delay on your WIFI router 

 The app is appropriately made and works properly for putting in and controlling your lighting fixtures 

 Voice manipulation is feasible with Alexa and Google Assistant
Switch Bots:
A Switch Bot or a clever switch, Blue Tooth enabled a robotic system that could push, pull, and maintain any button connected to an adhesive. You can join a Switch Bot to any tool to perform it without manually doing it. They are pleasant options to make regular switches bright.
Work without replacing existing switches

Easy to install with a simple setup

Provide Integration for existing devices

Compatibility with voice assistant
Home Automation system are becoming increasingly popular as people look for ways to simplify their lives. ZabTech can provide a wide range of benefits, from increasing your security to making your life more convenient. If you're considering automation for your home or office, research the options available to find the perfect solution for your needs.
What ZabTech offers:
Smart Door Access

Smart Cameras

Smart Lighting

Smart Home Cinema

Smart Blinds/Curtains

Smart Audio & Visual 
Features that ZabTech serves for Home/Office Automation
Life and visitors could make it tough to be domestic when the youngsters come through the door or when the restored man or woman suggests up. And because you can't be in locations at an equal time, having the benefit of having access to your property structures may be an actual time saver. Turn off your property's lighting without getting out of bed. Use your molecular telecall smartphone or portal tool to show your wi-fi domestic safety alarm machine on/off, or use voice reputation to govern home equipment across the residence. 
Save cost and uses less Energy
When accurately used, many domestic automation products, additionally acknowledged as "smart" products, assist you in manipulating your property's power consumption. For example, automate your thermostat to modify settings for the day's duration primarily based on when a person is domestic or the residence is empty. 
Some gadgets and home equipment have actual-time power information. It facilitates your property home equipment to understand the maximum cost-powerful instances to operate. For example, your dishwasher can also run at 2 am because that is the first-class time for the bottom price. 
Complete domestic automation structures have many safety benefits. As mentioned, they let you take a look at your property from a far-flung location, supplying you with true peace of mind. Some structures will permit you to engage with your property safety machine, giving you the cap potential to arm and disarm your property remotely. Some whole domestic automation structures will provide you with a warning with the aid of using a telecall smartphone, textual content, or electronic mail.