ZABTECH - ICT/IT Solutions
IT Solution Company In Dubai
ICT solutions is the advanced version of Information technology solutions. ICT solutions is also Known as IT solutions. At ZabTech, we provide top-quality, reliable ICT solution services. We are one of the most trusted within and around the UAE, and ZabTech offers vast Information and Communication Technology services among all the IT solution company in Dubai. These include company infrastructure services, monitoring remedy services, and managed services.
As professionals, we understand ICT and know it is highly robust, involving digital data storage space, data retrieval, and data transmission. ICT allows extra efficient services and quick responses to customers' demands, among other advantages. It can also help in service activities that involve design, manufacturing, R&D, distribution, sales, and customer feedback.
In recent years, the UAE has witnessed significant growth in the Information Technology sector. Dubai, in particular, has become a hub for IT solutions companies. 
The city has many IT solutions companies that provide a wide range of services, including software development, web design and development, cloud computing, and cybersecurity. ZabTech caters to the needs of both small and large businesses in the UAE. And offer various services that can help companies to improve their operations and compete in the global marketplace.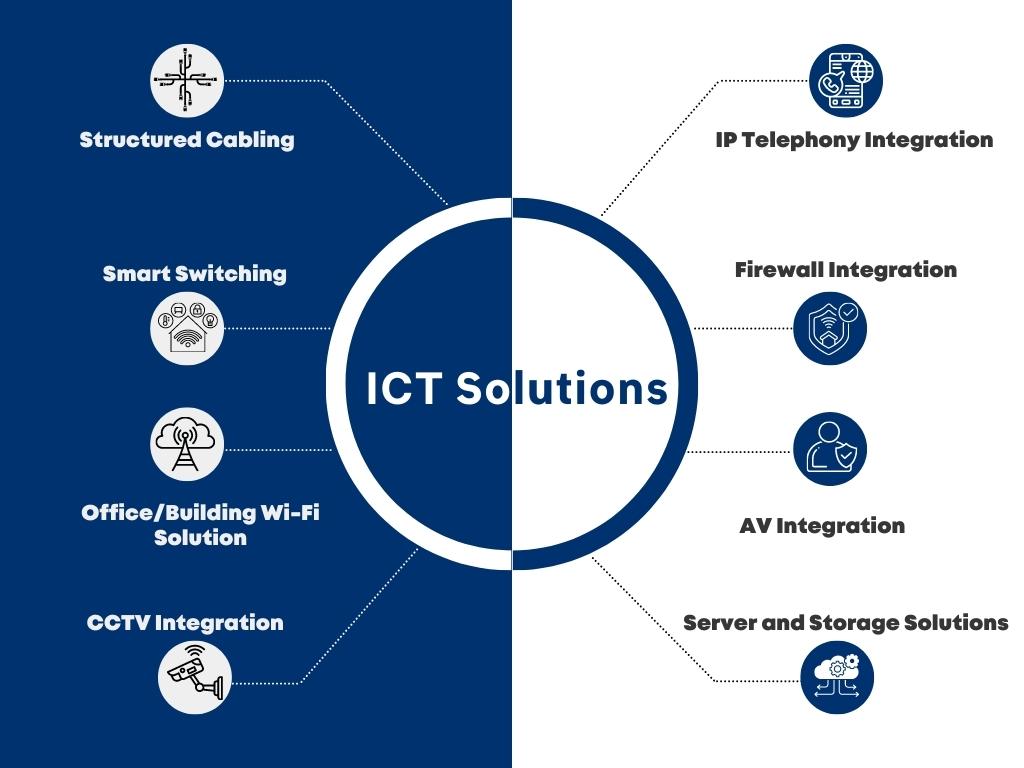 If you are looking for IT solution company in Dubai, you should consider some of the leading IT solutions companies in the city. These companies have a team of experienced and qualified professionals who can provide you with the best possible services.
We understand our client's requirements and demands, responding with appropriate and most effective service. They include the following fields, Oil & Gas, Federal Government, Education sector, Banking, and Finance. Get in touch with us for your particular industry, as we are most glad to serve you. Our ICT service offers cuts across every sector.
What's more, as part of our unique services, we offer and provide customized software and hardware from scratch to clients with added capacities and implement options for them through modern technology for a perfect makeover. We are proud of this as it enhances the company's productivity and improves the efficiency of individual resources within the company.
Why we are best IT Solution Company in Dubai?
Our team has handled several IT Infrastructure projects in UAE. ZabTech also operates in partnership. For instance, we have partnered with a few of the well-renowned service providers among IT Solution company in Dubai based on customers' project needs.
In terms of price, all our services are customer and pocket-friendly at a reasonable price range yet of professional quality. We also offer a wide range of products and services, including cloud computing, cybersecurity, artificial intelligence, and more.
In taking up and handling projects, we adopt and follow a task-based assessment system right from the pre-sales, implementation, and post-support processes.
Why not call us into your next project and enjoy our well-made tailor-made propositions, which consist of the end-to-end general scope of work, warranty, terms and conditions, payment terms, Job execution, support, and handover? We take it upon ourselves at ZabTech to ensure every client gets a long-lasting experience as we value our customers and their projects from concept to completion.
In conclusion, ZabTech is an excellent choice for IT solution company in Dubai. They offer a wide range of services and have a strong reputation in the industry. Their team is knowledgeable and experienced, and they can provide customized solutions that meet the specific needs of their clients.
We provide the following services.
Structured Cabling

Smart Switching

Office/Building Wi-Fi Solution

CCTV Integration

IP Telephony Integration

Firewall Integration

AV Integrations

Server and Storage Solutions