January 5, 2023

techAdmin

0
SEO Features: 9 Important Features from the Best SEO Enterprises
Do you want to increase your company's revenue and visibility in organic search? An enterprise SEO feature must include these features. Vendors of SEO Enterprises provide numerous capabilities.
Keyword research, rank tracking, backlink acquisition, competitive intelligence, and content optimization are examples.
The majority of the companies have Enterprise SEO features are: The fundamental capabilities of A Marketer's Guide are as follows:
Keyword research and rank tracking;

Page-level SEO analysis;

Content optimization analysis;

Link (also called a backlink) analysis and acquisition/removal;

Site error detection;

Organic search traffic market share;

Competitive analysis;

International search results and rank tracking;

Internal cross-linking

APIs for third-party data integration and management, as well as for export to other analysis tools.
In addition, enterprise SEO features may provide more in-depth link and site audits or analytics, including predictive scoring systems, to pinpoint potential opportunities to boost link authority or page performance.
Vendors set themselves apart by providing content marketing features that sometimes necessitate additional investment or data updates that are more extensive or frequent. Some examples of these more advanced capabilities are:
Daily or real-time site crawls.

Features to manage adjacent fields like

PPC

or

social media marketing.

Search intent-based analysis, perhaps involving artificial intelligence or machine learning.

Universal search rankings incorporate featured snippets, knowledge panels, reviews, local packs, images, top stories, videos, related questions, carousels, tweets, and other dynamic displays.

Analysis and management of Google Shopping feed.

Content marketing analysis

and performance tools.

On-page content quality analysis.

Competitive intelligence and benchmarking.

Identify technical issues impacting rankings (e.g., broken pages, slow-loading pages, content duplication, and excessive redirects).

Cross-device attribution.   

 
Here are nine crucial SEO features for IT enterprise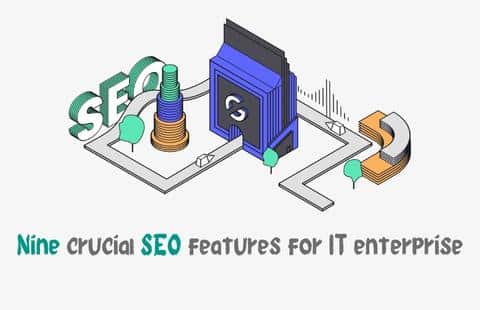 Link analysis and acquisition
One of the most critical external or "off-page" signals that can help a website rise in search engine rankings is still links.
As part of their base platforms, the majority of enterprise SEO platforms offer link analysis (i.e., what sites are linking to yours), recommendations for link building or removal based on competitive analysis, and other reports that reveal opportunities for obtaining links (i.e., where should you solicit links from).
Keyword research/rank analysis
Keyword research, which entails determining the search terms people use to find your website and the order in which your pages rank for various queries, is an essential part of effective SEO.
Keyword research tools are included in virtually all enterprise SEO platforms, allowing marketers to learn about consumer content search patterns and competitor keywords.
Despite this, sellers strangely get this information.
Because of Google's limitations on scratched information in its help out and the level of query items that contain the catchphrase "(not given)," a few sellers permit information from point arrangements or ISPs. Different sellers create and deal with an exclusive data set of catchphrase terms.
As a result, reliable keyword data has become less affordable and less of a commodity.
It's also important to remember that as Google has used more dynamic and visual SERPs, rank analysis has become more complicated.
Marketers no longer accept a straightforward numerical designation of their page rank for a specific query; they want to know if crawled content displays in a site links carousel, knowledge panel, or other SERP display format.
Even if the brand-related activity is on third-party websites, brands want a sense of how they appear in searches. Because of this, service providers are developing their exclusive formulas for calculating "share of voice" in search.
Search intent-based analysis
Increasingly powered by artificial intelligence, Google's search algorithms focus less on keyword matches and more on search intent.
In response to the lack of keyword data, SEO platforms use more tools to analyze search intent and predict or recommend the most relevant content that satisfies the user's needs.
Custom site crawls/audits
Site crawls or audits are essential tools offered by SEO enterprise platform vendors because content quality is becoming the foundation of many marketers' SEO features and strategies.
A few stages give streamlining suggestions for watchwords, page designs, and crawling. They frequently rank and score elements like HTML titles, body, and Meta tags.
Many enterprise SEO platforms provide daily site crawls; some provide weekly updates, while others offer real-time technical data.
The tool should be able to crawl the entire website, not just a few pages at random. However, it is unrealistic to expect an agency to crawl all of some business websites because they are so large.
Content marketing and analysis
Due to Google's use of artificial intelligence and regular algorithm updates, as well as raising the bar for content quality, SEO and content marketing have become more closely aligned. As a result, successful SEO relies heavily on current, relevant content.
SEO Enterprise from several vendors now has more content marketing features and improved content optimization and marketing capabilities. These are some:
Page management tools or APIs to monitor on-page content and errors.

Reports on content performance and traffic trends.

Influencer identification and campaign management.

Real-time content recommendations.
By performing a topical analysis of the content and comparing it to the competition to identify potentially essential gaps and make recommendations for improvement, more advanced platforms help improve the depth and quality of the content.
The ability to naturally and proactively recommend topics that advertisers ought to make content about is one emerging area sellers are financially planning.
It eliminates the need to invest much energy in the examination, and some even guide in fostering the kind of satisfaction that will appear in questions for target catchphrases.
International search tracking
International search coverage has become essential as the global economy encourages more U.S.-based businesses to conduct online and offline in multiple languages.
The international search coverage that crosses borders, languages, and alphabets provide by virtually all enterprise SEO platforms profiled in this report.
The capabilities include the following:

Global keyword research.

Global market.

Search volume data integration into the platform.

Global CPC currency data integration.
Mobile/local analytics
The mobile and local search user experience is becoming a more prominent focus of Google's updates to its search engine.
While dynamic destinations are table stakes in the Web optimization game, appearance in neighborhood postings has become more significant in the Coronavirus period.
Technical SEO crawling
Since marketers prioritize technical SEO fixes, tools to identify issues affecting ranking performance are crucial. These incorporate things like:
Slow page load.

Implementation of schema markup.

Identification of crawling issues.

The allocation of the crawl budget.

The flagging of duplicate URLs and canonical matters.
Cross-device attribution
Recognizing that SEO is only one aspect of a brand's marketing efforts and that paid media influence search traffic (particularly on brand keywords), some vendors are developing capabilities that assist marketers in determining which marketing initiative is driving site visits or sales.
At ZabTech Digital Marketing, we provide result-oriented, professional SEO services and IT solutions to suit your business services on an affordable budget. Our expertise allows you to rank your websites with your competitors without breaking the bank. Get in touch with us today, and we'll create the perfect SEO package for you.