December 29, 2022

techAdmin

0
Website Analysis- Why It is Important and How it works?
You are making your website easy to use and searchable to help bring visitors to it and keep them coming back. Your website will appear more professional and satisfy your visitors more if it has functioning links, quick loading speeds, and user-friendly navigation. However, to enhance the content and pages on your website, you must conduct a thorough analysis.
What Is a Website Analysis?
A website analysis examines and evaluates a website's performance in terms of speed, traffic, SEO, and user experience. Your company's performance is directly impacted by each component, which is a factor in your website's success.
Why Should You Conduct a Website Analysis?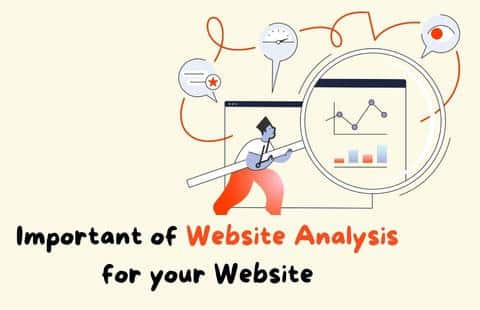 A website analysis is a good idea because the information you get and the results you get can help you improve your pages and find ways to get more visitors. You have a better chance of converting them into customers or clients from that point on. 
Analyzing your website, you can learn which optimization areas are prosperous and which could benefit from updates and improvements.
Analyzing the websites of your rivals can also assist you in locating content and keywords to target, figuring out how to improve the user experience, and adapting concepts to make your site stand out and result in more sales. 
However, analyzing your competition can be even more challenging than analyzing your website, which is already a significant undertaking.
Fortunately, Copy Press offers a new content analysis tool that ranks your website's content against your top three rivals. With this tool, you can contact potential syndication partners, learn where your content currently ranks, and identify opportunities for target keywords. 
We recognize how essential website analysis is to your company. Start boosting your content marketing campaign today by requesting a complimentary comment.
4 Types of Website Analysis Strategies
Through website analysis strategies, you can learn more about your website's functions, performance, and user interaction. Traditional website analyses include the following:
SEO makes it easier to understand what people want when visiting your website online. Analyzing your website for SEO can be done in several ways, including:
Analyses of backlinks: With this analysis, you can learn about internal and external pages that link to your website and compare your backlink profiles to those of your rivals. These features are present in most SEO tools, such as Moz, Ahref, and Copywrite Content Analysis Tool.
Audit of ON-Page SEO: You can use this kind of analysis to check your website for common technical issues affecting how well it performs in search engines. You can find results using specialized tools like Screaming Frog or Google Search Console.
Analyses of search engine rankings: This analysis shows where your website ranks in various search engines for particular keywords. You can examine rankings for the keyword of your choice, depending on the tools you use.
Speed
Understanding how quickly your content loads on different devices is made more accessible by analyzing your website's speed. Speed is essential because users and search engines prefer websites that load quickly to websites that load slowly. 
You can improve by learning what factors slow down your loading speed, such as large images, unclean code, or too many plugins. You can choose which elements slow down your website on particular devices based on the tools you use. You can get speed analysis assistance from several free tools, including:
Google Page Speed Insights

GTmetrix

Pingdom

Webpage Test
Traffic
By analyzing your website's traffic, you can learn about the number of people who visit your website, when they access your substance, and where they access it from, including their geographical location and device type. 
You can see where the most money can be made when you know about traffic. Google Analytics is one of many comprehensive analytics programs that monitor traffic and what visitors do when they arrive at your website.
User experience
Understanding what a visitor does when they arrive at your website can be gained by reviewing the user experience. The user experience is something only you can provide, unlike other kinds of website analysis that may be similar for all businesses operating in the same market. 
Additionally, this metric emphasizes human preference and behavior rather than solely relying on numbers and metrics.
Using behavior analytics tools like heat maps and session recordings, you can learn more about how visitors use your website and which parts they find most engaging. 
On-site surveys and feedback widgets, examples of feedback, and voice of customer (VOC) tools can enable your customers to provide you with longer or more specific feedback regarding their interactions with your website.
How to Execute a Website Analysis?
A website analysis can go more smoothly if you know how to do it. Prepare for and carry out your research with the following suggestions:
Set an Analysis Goal
You can run a site investigation whenever and under any circumstance. Conducting analyses can assist you in better comprehending recent updates to search engines or internet optimization trends. 
Even if you conduct website analysis regularly, each one needs to have a purpose of being effective. Look for a problem, or challenge your website faces to establish a goal for your investigation.
Create an Analysis Road Map
Having an ideal scenario or benchmark in mind that you can compare your results to after setting your goal is helpful. This can help you figure out precisely what you want to achieve from your analysis and how you will meet that standard after the research. 
Think about making a step-by-step plan for how you want a user to navigate and use your website or how you want them to progress through your conversion cycle.
Collect Data
The following stage is to utilize investigation instruments to gather practical information from your site and your rivals. Understanding your actual performance metrics and ways to improve your website is made more accessible by this. 
Your website analysis objective determines the kind of Data you have, the tools you use, and the tests you run during data collection. Consider just gathering data that straightforwardly connects with your objective. 
You can plan to conduct a separate analysis for a different goal or purpose if you discover additional information during data collection.
4. Brainstorm Solutions to Improve Your Website
One aspect of the analysis process is more than just knowing what you want or need to fix. The other is figuring out how to implement these enhancements and bring about real change. Make a list of how you can make minor changes to certain aspects of your website.
Consider listing step-by-step instructions for more complex revisions during your brainstorming sessions. The next step is to select the individuals or teams to whom you can delegate each section.
Continue conducting periodic analyses on all areas of your website, not just the ones you altered after implementing your changes. 
It can help you determine whether your changes are working and whether they need to be changed again. It also lets you know if, over time, other parts of your website could benefit from the same improvement process.
Website analysis tools can make locating the data required for website analysis much more straightforward. You can learn about your rivals and current practices and improve your website design and strategies by learning how to interpret and evaluate the Data you have collected. 
You can approach ZabTech IT Solutions to do your website analysis and searchable to help bring visitors to it and keep them coming back.