January 2, 2023

techAdmin

0
Website Speed Test: Best Website Performance Tools in 2023
Imagine you are searching for a query on a website that takes too much time to load and get the page. How annoying would that be? Your website speed test and user experience are more important than you think. In point of fact, after the first five seconds, conversion rates on a website decrease by an average of 4.42 percent for each additional second of loading time.
Factors, for example, facilitating speeds, the quantity of JavaScript components a site has, and responsiveness, all influence the exhibition of your site.
You can use a lot of online speed test tools for websites. However, many present results in a technical manner that is difficult for non-technical users to comprehend or utilize.
This article will guide you on how to run a website speed test correctly and the best tools. 
Best Tools to Execute a Website Speed Test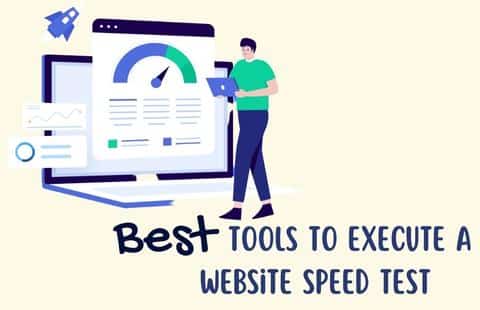 You can use a lot of performance monitoring and speed testing tools for WordPress websites, both free and paid. Some cool things set each one apart.
You don't have to use just one tool to test your website. To be thorough, you can use multiple devices and run various tests.
However, we advise users only to use these tools to boost website performance. On these tools, getting a perfect grade or score is often very difficult. For most real-world websites, it's almost impossible.
Your objective ought to be to make your website load faster for your customers to have a faster and more consistent user experience. Not getting a perfect score on a particular test should be the objective.
Let's look at the best tools for testing the speed of a website.
1.Google Page speed Insights
Google developed the website performance monitoring tool known as Google Pagespeed Insights. It provides performance reports for the desktop and mobile versions of your website.
You can switch between these reports, and you will discover some issues shared by both of them and some that Google suggests fixing in the mobile view.
Developers will appreciate the detailed recommendations you receive for each issue. However, novices and non-developer users may find the tool intimidating.
2. GTmetrix
Another powerful tool for checking the speed of websites is GTmetrix. You can use popular tools like website speed tests and slow to test your website. By creating an account, you can change your browser and location.
It displays in-depth reports with a brief synopsis of the outcomes. You can view recommendations by switching between the two tools. You can get more information by clicking on each request.
3. Monster Insights
The best WordPress analytics plugin is Monster Insights. It makes setting up Google Analytics without editing any code a breeze.
You can use the plugin's Site Speed report to check how fast your website loads on desktop and mobile devices.
Monster Insights provides a score for your website's overall speed and other metrics that can enhance the user experience. You don't have to leave your website to view the report in your WordPress dashboard.
The fact that Monster Insights provides a target goal for each metric is the best feature. In addition, you will receive recommendations on how to speed up your website and enhance each metric.
4. Pingdom
One of the most widely used website performance monitoring tools is Pingdom. It's simple to use and lets you run tests in various locations, which is helpful.
A comprehensive results report follows an easy-to-understand overview of the findings. At the top, you get suggestions for improving performance and individual resources as they load.
5. Uptrends
Another free website speed test tool is Uptrends. It lets you choose a location, browse, and switch between desktop and mobile tests.
Because it also provides a summary of your Google page speed score, the results are clear and straightforward. To learn more about the performance issues, you can look through your resources and scroll down for specifics.
How to properly do a Website Speed Test?
It is not guaranteed that running speed tests on your website will reveal precisely how well it works.
The internet, as you can see, is like a road. You may be slowed down if there is more traffic or congestion. There are times when everything is crystal clear, and you can go through it much more quickly.
Several additional factors would impact your results' quality and accuracy. It is critical to run these tests entirely before you begin breaking down the information.
We should perceive how to run a site speed test appropriately to obtain more exact outcomes.
         1.Run Multiple Tests
Your test could be affected by some things. Even though most website speed test tools use the fastest internet speeds, the results of each test will be slightly different.
The most noticeable difference was the time it took to download the entire webpage. We suggest running at least three tests to obtain a more precise picture.
After that, you can use an average result to determine if your website needs improvement.
       2.Make Sure Your Website Caching Turn On 
Before the tests, check to see that caching on your website is turned on. You could test website caching and see how well it improves performance with this.
The issue is that some caching solutions store cache only when a user requests the page. This indicates that the cache may have expired when you run the tests because it takes some time to build.
We can use a WordPress caching plugin that makes it easy to set up your cache without learning technical skills.
Best of all, it proactively constructs your site reserve, further developing your site execution.
       3.Check the Performance of Your Website Firewall / CDN Service
While WordPress storing modules can do a lot, they have constraints. It cannot, for instance, defend against DDOS attacks or brute force attempts. It doesn't likewise do anything against spambots, implying your server assets get squandered a ton.
As a suggestion, Sucuri requires in this location. It is one of the best WordPress firewall plugins that block malicious requests to improve server performance.
The same server typically serves all of your website's files. By incorporating a CDN service into your website, you can improve this. MaxCDN, developed by Stack Path, is the best CDN solution for novices.
A CDN administration permits you to serve static site records like pictures, templates, and scripts through servers spread all over the planet. It makes your website load faster, reduces the load on the server, and improves the user experience for all visitors.
Your test results will significantly improve when the firewall and CDN service are activated.
Understanding the Results of Website Speed Tests
The most crucial parameter you should consider is the time your website takes to load. Your users are most affected by this parameter. Users may hit the back button, get a negative impression of your brand, and consider your website poor quality if it takes longer to load.
Examine the drill-down reports if your website takes longer than two seconds to load. Determine which resources are loading more slowly.
Images, stylesheets, scripts that load from other websites, video embeds, Etc. are typical examples. Make sure that the cache or your CDN service serves those images.
Additionally, keep an eye on how long your server responds to each request and how long it takes to deliver the first byte.
Additionally, you should ensure that browser compression, also known as gzip compression, is compelling. Compressing the files between your server and the user's browser reduces their sizes.
Consider deferred loading techniques, also known as lazy loading, if your page contains many images and videos. It allows it to load only the content currently visible on the user's screen when they scroll down.
Utilizing an image compression tool is a must to ensure that your images are optimized for the web, as is always the case.
The second significant boundary you would need to test is the TTFB (time to the first byte). If the time to the first byte on your web server keeps getting slower, you should talk to your web hosting provider.
Blue host, Site Ground, and WP Engine are just a few of the best WordPress hosting providers, and each of them has its caching options. TTFB results may be significantly enhanced by activating your host's caching solution.
We hope this article has taught you how to conduct a website speed test correctly and the best tools to use. If you want to increase your website loading speed, Contact Zabtech IT Solutions to guide you to increase your website loading speed.