December 12, 2022

techAdmin

0
Top 8 website launch strategy to create a Business Website
Website development and maintenance are expensive, so seriously, looking for a well-structured website need to pay for itself eventually. To successfully run this process, it's essential to have the right website launch strategy. Many companies need to do this method.
This is a challenging problem—your website launch strategy creates many marketing opportunities in this business world. The main thing, it's the best way to develop a bit of rush around your brand and success image.
It's also an opportunity to get your new website delivering ROI straight off the bat. With that in mind, we've compiled a guide to creating a successful website launch strategy.
Unfortunately, many businesses have websites that fail to lead to success because they need to offer a quality user experience on their website that focuses on their target audience. Instead of promoting how the company can solve problems for customers, the websites appear self-serving.
You must stay focused on the design, even if your website highlights how your products or services can help potential customers. Website design is essential, but overall the website launch strategy will help you to find the path to attract new customers and retain the old ones.
When planning for your new website, you must consider the end users. Your customers should be important first, so always build your website to enhance user experience with your brand. 
Consider the end goal and how your website can support those goals and help convert visitors to customers. You must choose a content management system that facilitates your website design, continuous management, and optimization without relying on web developers to make every change.
A successful website launch strategy has ranged from someone entering your website to learn more about your expertise or services to completing the conversion process to become a customer.
The eight website launch strategy is to create a Business Website.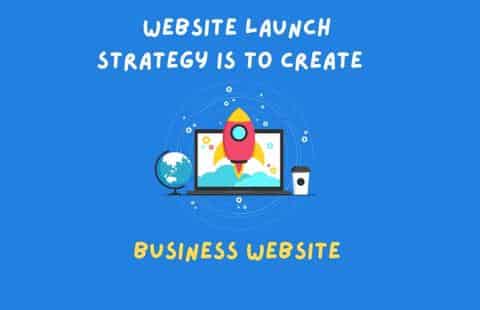 For a site in development, check this 8-step launch checklist to ensure it is ready to launch and it will effectively support users and your business when it comes to living. If your site runs live now, use these steps to build on your efforts.
1. Web design
Web designers can help you improve your website's user experience and functionality. In addition, a good web design can improve conversion rates because they understand consumer interest and can use the right colors and design paths to help you to convert visitors into customers through the best web design.
2.     Web development
Good Website development has a vital role in succeeding in a website launch. However, web developers are responsible for improving user experience and ensuring proper website navigation. 
They are entirely responsible for the website's performance and can help you correctly make more complex designs, styles, and functions on the website.
You can have more design options with a website developer because they make anything possible for your website. Because Web development is one of the primary steps for a website launch strategy.
   3. Website Maintenance and Technical issues
Website maintenance is a method to ensure your website performs very well at all times. Website developers are responsible for website maintenance to ensure your website is secured and loads quickly.
4. Optimize for mobile
Mobile optimization is essential in website traffic. Thus you want to guarantee your website is viewable—and straightforward to find—for individuals on the go.
In mobile SEO, innovative content and links area unit essential, however different parts additionally have to be compelled to be thought of, like:
URL rendering: the method of a URL appearance within the address bar

Page rendering: However, HTML code is understood visually
Mobile-focused markups: the code that helps a page get discovered by a groundwork engine
Have a transparent decision to action (CTA)
Your visitant cannot browse your mind; thus, make sure you have an outstanding CTA as your website's main banner image (or "hero"). A decent CTA is persuasive and clearly explains the task you wish readers to perform.
Content on the remainder of the page should be directly associated with the CTA. For instance, make a case for the good thing about taking action.
The CTA ought to use words that are unit direct but not enterprising. Making a way of urgency is excellent; however, an attempt for Associate in a Nursing encouraging tone that goes only a little.
Use command verbs to elucidate wherever a CTA button leads—don't raise guests to "click here." Instead, strive for one thing like "Read additional on our weblog," "Buy now," or "Download the app."
Implement Search Engine Optimization (SEO)
Besides operating with website designers to ensure that your site includes a nice look and feel once launched, you must additionally work with an Associate with SEO specialist to ensure your new site's search users.
SEO is increasing the visibility of—and traffic to—your website through search engines. Notwithstanding you do not wish to start with the Associate in SEO method immediately, having an Associate in Nursing SEO-friendly net structure once you launch your website can prevent creating more changes in the future.
Take a look at everything
Before introducing your website to the planet, look at everything, beginning with usability testing.
Check links. Take the time to ascertain your internal and external hyperlinks work.
Test, however, your website appearance across totally different browsers. Confirm everything—from fonts to forms—renders correctly with browser tests on each desktop and mobile. If you do not have the time to try this manually, consider a service like Browser Stack.
Do a website speed and take a look at it. Page speed may be a ranking thing about Google searches, and customers are less likely to shop if a page masses slowly. Various things, like plugins or massive pictures, will negatively impact the loading speed of a website.
Make sure your forms work. If you have an Associate in email signup on your site—and you should—try subscribing with your address to visualize if all the machine-driven messages connected thereupon method, like welcome emails, arrive correctly. Also, confirm any contact or feedback forms settle for submissions properly.
Proofread the positioning. Let users to visit the positioning before it debuts and review everything. Have them browse copy to form certain it is simple to grasp and free from typos
Promote your Website
Marketing is vital to driving awareness, and there are ways you'll encourage new individuals to go to your website.
Social media. Share links across all of your social channels. Take into account investment in targeted paid social advertising to seek out new individuals for your audience with specific criteria, like those within the native space or with shared interests.
Incentives. Produce a promo code for those that visit your website, giving a perk like free shipping, a specific transfer, or a reduction if they check in for your email list. Contests also are good thanks to producing excitement and driving traffic.
Automation. Once somebody signs up for your email list, machine-driven emails will facilitate keeping your whole high of mind and encourage future website visits. These messages are triggered by events, like their 1st visit to your website, their birthday, holidays, sales, and reminders to return and purchase one thing they left in their pushcart.
Now launch your website for your audience with ZabTech.
Follow these best website launch strategy, ZabTech Digital will help you to have a website that shows off your whole temperament and provides your audience members an area to interact with you. A website creates the potential for a long-run relationship together with your audience.