January 13, 2023

techAdmin

0
The best guide to Local SEO Dubai in 2023
Local SEO is powerful for small businesses in Dubai: 46% of all Google searches seek local information. If your business optimizes, you might miss out on customers ready to shop in your area if you use local SEO. In a nutshell, if you want your company to remain relevant, local SEO is essential.
We have created a comprehensive guide with local SEO tips to assist you in optimizing your business for local SEO.
By the guide's conclusion, you will have a solid understanding of optimizing your business to reach potential customers who use local search to select products or services.
What is local SEO?
For Business owners in Dubai, Local SEO Dubai (Search Engine Optimization) improves search engine visibility for local businesses, primarily those with brick-and-mortar locations. Following local SEO best practices, companies can increase organic traffic from customers' nearby area searches.
Social profile pages, local content, links, and citations are all signals that search engines use to provide users with the most relevant local results for local searches.
Businesses can use local SEO to position their products and services in front of local customers and prospects looking for them.
The Comprehensive Guide to Local SEO Dubai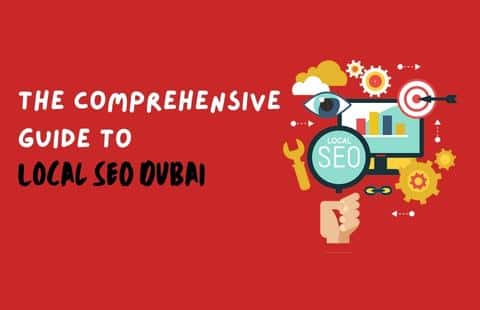 1. Optimize Your Google My Business Profile.
Google My Business has grown to be the best in local search. Google My Business is the best tool for assisting your company in meeting Google's requirements because Google generously supports, verifies, and shares its content.
It would be best if you did the following to be optimized for Google My Business:
Create a Google My Business page and verify it.
Within your account, make use of Google Posts.
Encourage your clients to leave online reviews.
Provide a location in response to reviews in an authentic manner. For instance, "We value your feedback on [product/service] in [city, state]." We appreciate your feedback and anticipate working with you again. From all of us at [full company name], thank you.
A highly sought-after sidebar spot in Google's local search could be yours if Google can verify your business's authenticity.
Also, do more than just this for SEO. You are making it easier for potential customers to find you if you have reviews and keep your contact information and operating hours up to date.
2. Engage on social media and add posts to Google My Business.
Google places a greater emphasis than ever before on social media content.
Share your stunning Google My Business page on social media to integrate search and social media further.
3. Ensure your business address are consistent online.
You've got to make it easy for people and search engines to find you; to do this, you have to set up your NAP.
4. What does NAP mean in local SEO?
The acronym, NAP, stands for a business's name, address, and phone number (with area code). For Google to better display your NAP in location-based search results, the HTML text on your website should be considered crawlable.
The NAP is typically displayed in the website's header or footer. You should also include your NAP on a "Contact Us" page.
A Pro Tip: Avoid making the standard error of only including the NAP within an image because, unlike HTML text, photos cannot be crawled by search engines.
5.Optimize online directories and citations.
These four map data aggregators offer numerous map data for Apple, Bing, Google, and other companies in the United States:
The key is consistency: Check your citations across these four data aggregators to ensure they are complete and consistent.
Discrepancies such as misspellings, abbreviations, the absence of a suite number, or the incorrect phone number can be problematic.
Google may only display your business in search results if it can determine which information about it is accurate.
A Pro Tip: Remove any duplicate listings you find in online directories. Also, while you're at it, join the Chamber of Commerce in your neighborhood to get a local link from the outside.
6. Perform a local SEO audit.
Putting your foot on the brake may be tempting once you have mastered the fundamentals. SEO, on the other hand, is a gradual and intuitive process. Conducting a comprehensive website audit helps determine where you stand and where you need to improve to achieve your objectives instead of simply making changes and seeing what sticks.
6. Add location pages to your website.
Create location pages if you have multiple physical locations. Your name, address, phone number, store hours, unique descriptions, information about parking and public transportation, promotions, and testimonials from satisfied customers are all included on location pages.
Additionally, you must avoid duplicate content on multiple location pages. Make an About Us page that is local and descriptive for businesses with only one location. You can earn bonus points if you include a Google Map on each location page.
7. Create local content.
Because Google keeps getting more intelligent, content creators can write more for users rather than more to please search engines. And while writing about broad subjects will draw many readers, writing about local or industry news to attract smaller readers is sometimes more important.
Promote local industry gatherings, news, employees, and other educational content on your blog to establish yourself as the industry authority. Think of content at the top of the funnel that goes beyond what your company sells.
Create a helpful resource, for instance, to familiarize new businesses with your city if you're a local security company trying to bring in new businesses. A calendar of city-wide events or a map of local service providers adds value to your persona and includes highly relevant on-page local signals.
8. Participate in your local community.
You'll get more digital PR as you get involved in the community. Organizing a volunteer day, working on a campaign with a nonprofit, sponsoring an event—even one that is held online!— or establishing yourself as an authority in your field by appearing in the local media are all ways to gain press, brand recognition, and inbound links.
For instance, considering that.edu links have the highest domain authority, why not get some links by highlighting a scholarship in your area? Given the school backlinks, they should be pertinent to your sector, convey the appropriate signals to your domain, and cheer you up!
Improve Your Business in Dubai Visibility with Local SEO Dubai
Any SEO strategy for local businesses must include local SEO. If you have a storefront or service area, local SEO will make it easier for your audience to find you when they search online. 
In your quest to establish authority and brand recognition online, we hope that this article has been of assistance to you.
Performance benchmarks are set for each Local SEO project to gauge our progress and maintain high-quality services. ZabTech IT Solutions helps you improve your bottom line with the best Local SEO services in Dubai, UAE.