December 5, 2022

techAdmin

0
Top 4 Effective steps to hire a marketing agency in Dubai
Running any business in Dubai means you must be ready to face many challenges and find solutions at each step. To be as useful as possible, you should organize your work carefully, figuring out the things you can handle by yourself and what processes you want to outsource. 
The complex parts will be: finding and choosing an expert who will meet your expectations. A marketing agency in Dubai can be a partner in reaching new success growth, but not all agencies have the same process methods. Some specialize in niche industries, others embrace different services and skills, and their price tags may vary. 
Before hiring a marketing firm, read our step-by-step workflow on engaging effectively.
Benefits of Hiring a Marketing agency in Dubai
Marketing is powerful and urgent for any business, but it's more complex than many business owners might think. That's why having an expert team can be particularly helpful. Outsourcing could be one of their priority for businesses with super small groups. Let's look at the benefits of hiring a digital agency.
A more comprehensive range of skills
Only some companies can afford full-time SEOs, web designers and developers, content writers, and PPC specialists. If you are planning to choose to work with a marketing agency in Dubai, you can open the door to a broad range of skills from various fields.
Suppose you're planning to roll out a large project and need help to improve your campaign. In that case, you can go to a marketing agency in Dubai that will provide you with a team of professionals and experts with experience in different projects and areas of marketing strategies.
It is better to rather than having one marketing person's expertise and experience, and you will get benefit from several skilled marketing mind persons to launch your projects. So, rather than hiring one familiar marketing person for your business, hiring an agency means hiring an entire group of digital experts.
Lower costs in Agency Plans(in some schemes)
Sometimes, it's cheaper to handle your tasks than have a full-time marketing expert, especially in cases where you have one-off requirements. Hiring a qualified full-time marketing specialist will take a lot of time and effort, and we have to pay more than working with an outside marketing agency.
According to the Glassdoor salary survey for a digital marketing specialist, the average salary of an SEO specialist is $47,752 per year, and a digital marketing manager is $123,899 per year.
Let's calculate the additional expenses that come with having an in-house marketing team, like taxes, insurance, and retirement plans, and then the total sum rises to more than $150,000 per year. 
The services of a marketing firm will not be free, but multiple agencies work with different budget sizes and offer various pricing models. Agencies could include experts with an hourly rate, or it depends on project-based.
Getting access to industry technology and Tools
Investing in the top and best marketing software gets at a high rate. However, a good marketing agency in Dubai comes with many of the industry's must-have technical tools so their clients can access the best technology on the market. 
Conversely, if you are a partner with an any marketing agency in Dubai, you can access marketing and auditing tools. They can launch projects and audits your reports for your website. They can share with you, so you can find out the tool's capabilities and the data strategy before purchasing an individual subscription.
If you've heard about cross-industry innovation, agencies might have solved many of the challenges we face in other industries. One of the most successful examples we can see here is how the F1 Pit Stop brought the idea of fast-food drive-through.
Most digital marketing agencies in Dubai work with all industries and businesses. They know the best practices they can use and share with your company if you are looking for an outside opinion that can give you a new angle from which to look at your marketing strategy in your company.
However, despite all the advantages of handling your marketing activities, there may be some disadvantages. Here are a few reasons businesses may want to hire an in-house marketing team.
Employees clearly understand your brand and the company's culture and services.

Communication is effective because your team members work closely together, and a good team can work wisely.

You have complete control of creatives for your campaigns.
How to Find the Right Marketing Agency in Dubai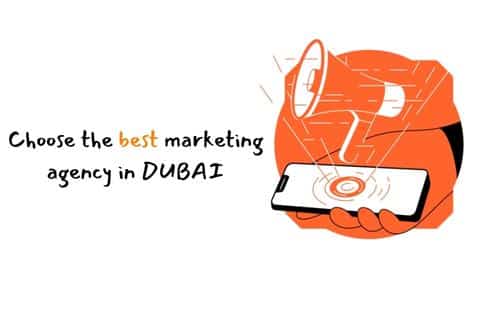 You must consider four essential aspects when looking for the right marketing agency in Dubai for your business.
Step 1. Understand Your Company's Needs
What does your business need? Understanding what you want to achieve through these digital marketing strategies and what you expect from an agency is essential. Both sides of this partnership with a marketing agency should have clear expectations from the start.
Set up a measurable goal to track your progress and understand when you can achieve your objectives
Step 2. Build a Shortlist of Agencies
Hiring the right outsourced marketing agency in Dubai can be a difficult and draining task. Even more frustrating if, after all that time and energy, you hire the wrong one. Fortunately, it doesn't have to be that right way. 
So the Initial step is choosing the right digital marketing agency in Dubai to understand your targeted goals and what you hope to achieve by working with that marketing agency. 
You can shortlist a company that can coach you more hands-on, so not all marketing agencies in Dubai can do this. Because you know what you want, you can find the right fit. 
Step 3. Make sure the agency is up-to-date with their services
The digital world is a fast and ever-changing environment. And as marketers, we need to develop an adaptable mindset. Yesterday's trend may become old trends for tomorrow.
In this case, it is essential that the marketing agency you will work with, especially if you look it is a long-term plan, always keeps up to date, follows popular topics, and incorporates them into its marketing strategy.
Sometimes, this may cause a slight change in the original plan, and that may cause you to deviate from your intended path. In this case, if the agency you hire is successful and experienced in its field, you should trust them.
Step 4. Match with the Ideal Partner
Now that you have a list of several marketing agencies in Dubai that may be a good option for your business, you can explore your candidates in detail. 
Agencies should not only advertise their services, but they will also market themselves and create content to build credibility and trust for brand awareness. Search for marketing agency in Dubai that have a good track record. 
You can get in touch with the agency's current and previous clients and learn more about their experience with that vendor. An agency might be over-promising if it exaggerates the actual results.
Why is ZabTech the best marketing agency in Dubai?
Every business is unique and needs an individual solution. The right agency will understand what you want to do and how it does. The right agency can mesh with your audience or sales cycle.
Finding the right agency partner takes time and effort. But the more thorough your search process is, the better your chances are that you've made the right choice.
Research and ask the right questions to ensure you make a suitable investment for your company. To get started, check out ZabTech's experts: a list of highly-qualified marketing professionals from best marketing training institutes ready to help you in the next stage of your business journey.