November 28, 2022

techAdmin

0
Top 8 Digital Marketing Services In Dubai In 2023
Digital marketing services in Dubai are more important now than ever in history. Develop steps to create, streamline, or optimize your digital or internet marketing strategy today, and it helps your business against a sharp increase in productivity. 
Where do we start if you need to develop a digital marketing strategy for your business? It's still a common challenge since many companies know how these digital channels using for acquiring and retaining customers. 
Yet they need a successful plan to support digital strategy and business growth and engage their audiences effectively online. Suppose your business has a strategic digital marketing plan aligned with your business plan. In that case, you should find better digital marketing services in Dubai.
For each digital marketing example, we will also recommend marketing solutions and the following steps to help you optimize your digital marketing strategy in 2023.
Why is Digital Marketing Services More Important now?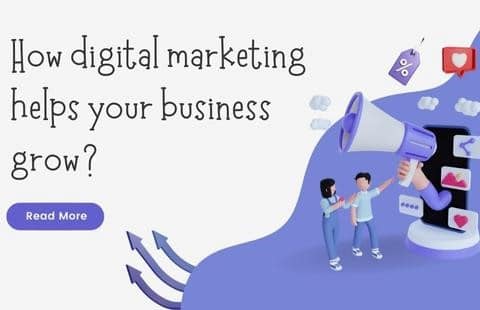 Digital marketing services in Dubai help you reach a larger audience or customers than you could through traditional marketing methods to the prospects who are most likely to sell your product or service. Additionally, digital marketing is more cost effective than traditional marketing, enabling you to measure success daily and pivot as you see fit.
There are some significant benefits of digital marketing services in Dubai:
You can focus your ideas on only the prospects to market your product or service online.

It's more cost-effective than outbound advertising.

Digital marketing can identify your industry and allows you to find competitors with more prominent brands.

Digital marketing methods are measurable.

It's easier to change and adapt a digital marketing strategy.

It can improve lead conversion rates.

You can engage your audiences through social media profiles to increase brand awareness.
Types of Digital Marketing Services 
Here are some of the most common digital marketing services in Dubai.
SEO is optimizing your website as SEO-friendly to rank higher in SERPs (search engine results pages), thereby increasing your website's organic traffic.
Some ways to do SEO to generate traffic and leads to your website. These are;
On-page SEO: On-Page SEO focuses on all the content given on the website. By researching keywords based on their services and brand with high search volume and optimizing the website content in SEO Friendly.
Off-page SEO: Off-page SEO focuses on all the backlink activity to get high authority to your website. The number of websites that give a backlink to your website, and the relatively high authority listing sites, will help you rank highly for the keywords you are looking to rank, write guest posts on these websites, and get links back to your website. You can earn the backlinks to rank on the SERPs.
Technical SEO: Technical SEO focuses on the technical side of your website and how your pages are coded. Image compression, structured data implementation, and CSS file optimization are all terms of technical SEO that can solve your website's loading speed and essential ranking factors in the search engines like Google.
Content Marketing is creating and promoting content on our website for website traffic growth, generating brand awareness, lead generation, and users. Content marketing is one of the best digital marketing services in Dubai.
Content Marketing can technically take many forms, be it social media high-quality content, course content, videos, etc. but today we're talking about long-form blog content.
Regularly maintaining a blog helps you establish authority both in Google's eyes for SEO purposes and in your customers' eyes as an expert.
As a result, you'll want to make sure you're thinking about both what Google wants to see and what your customers want to see when picking your blog topics and writing them.
Social media marketing is one of the most demanding digital marketing services in Dubai that promotes your business to potential customers through the best social media platforms. Many marketers will use social media platforms to create campaigns.
A creative content creator or taking a trend that resonates with a broad audience is a viral marketing strategy. The purpose is to create something share-worthy that will organically spread across all social media channels.
PPC drives traffic and leads to your website by paying a publisher like google every time your ad clicks. The most common type of Pay per click is Google Ads, in which you have to pay for top keywords on Google's search engine results at a price per click of the links you place in the campaign.
These PPC ads will show on the top and bottom of search engine results pages. Paid advertising is an excellent strategy for promoting your business or service to capitalize on those future leads.
ZabTech is the best digital marketing services in Dubai-based Company with highly experienced PPC Experts. Not getting easy to create a campaign for each valuable click in your ads by a PPC expert.
Affiliate Marketing
Affiliate marketing means posting affiliate links from your social media accounts. This type of advertising means you receive money for promoting someone else's products or services through your website.
This type of marketing is part of Dubai's relatively digital marketing services in Dubai. Creating sponsored links using influencers can be highly effective in affiliate marketing.
Affiliate marketing can level the playing field and make influencer marketing more easily accessible for small businesses on their budget.
Influencers are social media personalities with large followers on their social media profiles. Influencers will range from someone who has a couple of thousands of followers.
Brands will pay those influencers to promote their product or service to their large followers, which, if done well, results in many sales for the brands.
The method to making influencer marketing for you is to find multiple influencers to partner with whose followers align with your target market.
Companies use email marketing as a way to communicate with their retargeted audiences. Email marketing is often used to promote content, discounts, and events and to audiences to the business's website.
The email marketing campaign includes the following:
Customer welcome emails.

Blog subscription newsletters.

Holiday promotions to loyalty program members.

Email that has similar serious or tips for customers.

Follow-up emails to website visitors.
Marketing automation is the software used to automate your basic marketing operations. Their marketing departments can automate repetitive automation tasks they would otherwise do manually in business.
Marketing automation can make life easier, but it should be different from the human touch. As we said in the introduction, a recent technological increase has been meeting with increased or changed consumer expectations.
Marketing automation is no exception consumers appreciate the timeliness and thoughtfulness of automation, but they can also read between the lines of bot-written copy or stale imagery. Marketing automation should complement your current marketing efforts, not replace them.
Drive Business Success with Digital  Marketing in Dubai
The research and practice of digital marketing services are improving with the advancement of technology. Digital marketing services in Dubai create many more options by allowing you to reach prospective buyers through various channels. Whether it's social media platforms, websites, text messages, or any online medium, it's an invaluable way to promote your business, service, or product.
Getting a promising digital marketing career is also a better opportunity to start a better career life in this coming digital field. The best course in digital marketing gives you an overview and general information on the various area-specific trends and techniques in use. Let us look at Dubai's best digital marketing courses to boost your skills today.
Digital marketing holds globally, and Dubai is no exception. Dubai is the wealthiest and most developing city in the UAE. The overall growth in Dubai is increasing day by day. The digital marketing industry has made a massive high rise in Dubai as well.