March 17, 2023

techAdmin

0
Steps for the Multi-Channel Content Marketing Strategy In 2023
Multi-channel content marketing can help your business marketing efforts, but you feel stuck and need help knowing where to begin. More eyeballs on your content mean more opportunities for conversions and sales.
Thankfully, there are simple ways you can use content marketing to double or even triple your website traffic and sales.
In this guide, we share a step-by-step process for creating a multi-channel content marketing campaign that can connect your business with your audience across different platforms.
Why Use a Multi-Channel Marketing Approach for Content?
Did you know 72% of consumers would rather interact with brands through multiple channels before purchasing?
This indicates that most customers investigate a brand through two or more channels before purchasing. The procedure could look like this:
Search for your company on Google; go to your website; look for your business page on Facebook; look for additional content on other channels; decide to buy. Multi-channel content marketing helps consumers build brand loyalty, gives them helpful information, and makes them want to purchase products from your company in the future.
A multi-channel content marketing strategy is essential in this situation.
Customers will likely see your rivals if they do not see you on these other channels.
You can create one piece of content and then repurpose it so that you can share it across multiple channels to reach your customers where they are using a multi-channel content marketing strategy.
Why Content Marketing Through Multiple Channels Is Successful:
Content — mainly informational, relevant, and helpful—helps you engage your target audience. It resonates with them because your content shows them how you can solve their problem. 
Multi-channel and integrated digital marketing helps your business reach a larger audience and allows you to generate more leads — and eventually more sales.
You can easily repurpose content across multiple channels with a multi-channel strategy.
Creating new and fresh content is essential for search engines, and it's crucial for the customers that you're trying to reach. One way to freshen content without constantly creating new content from scratch is by repurposing the content you already have. 
Fortunately, there are several ways you can turn one piece of existing content into different forms of content without having to go back to the drawing board.
For example, you can take one long blog post and turn it into multiple forms of content:
Break up one long post into several shorter posts
Pull tips from the article to share one piece of information at a time on social media
Create a video
Read the blog post (without sounding like you're reading it) to create an audio file, such as a Podcast
String several short blog posts together to make a long blog post
Combine multiple blog posts to create an eBook 
Use a program like Canva to create visuals of quotes or tips from the article that you can share on social media
Create a pin for Pinterest
Steps for the multi-channel content marketing Strategy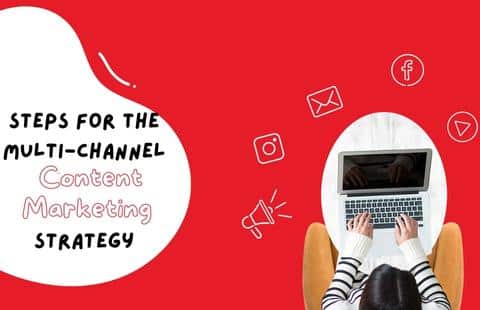 Step 1: Determine the kind of content your ideal customer prefers.
Are your family members searching social media for your needs? Are they using Google to find answers to their questions? Try one or two of these options if you're having trouble deciding what kind of content to share:
Use your website or a social media poll (such as Facebook) to determine your customers' wants or needs. 
You can also check on your rivals to discover what they are doing. 
Search Quora or Answer the Public to find out what other people interested in your niche want to know. 
Check your analytics to see what people are currently viewing and engaging with.
Analytics for your social media and website can be viewed. These investigations can give you a thought of the kind of satisfaction that your ideal client likes to see.
The objective is to meet your ideal client's needs and keep them coming back for more.
Step 2: Draw up your plan for how to carry it out.
Once you know your ideal customer, you can create and implement a multi-channel content marketing strategy.
The multi-channel content marketing  strategy differs from business to business. There are many ways to map out your plan. You might prefer pen to paper, PowerPoint, or an online source. Either way, mapping out your strategy is essential.
Not having a content strategy is like starting a business without a plan.
You've already figured out who your content is for. 
Now let's:
Focus on your message
Brainstorm content ideas
Set Goals
Decide on a content management system
Establish a system for analyzing stats/data
Let's look at a strategy for Howard to get his next piece of content published and repurposed across multiple channels.
Howard's strategy was to:
Publish a blog post to his site every Monday.
Republish the blog post across his social media channels.
Publish infographics to social media on Tuesday and Friday.
Schedule a YouTube video to post on Wednesday.
Record a podcast episode to publish on Thursday.
Send a newsletter to subscribers and schedule a blog post to be shared on social media every fourth Saturday of the month.
Share products along with content throughout the week on each of his social media marketing channels.
Step 3: When at all possible, repurpose content
Content can be and should be repurposed when possible. 
You can use the same content numerous times but give it a spin to look like fresh, new content because it's in a different format. 
This is why multi-channel content marketing is so powerful.
You can film a 5-10 minute video about 'why small dogs are better than big dogs.' And with that, you can…
Create a couple of infographics
Break up the video into five shorter videos for social media
Create three SEO-optimized blog posts
Use the video content for paid ads on Facebook
And more
Instead of stopping here, you can repurpose this content.
Ways to Repurpose Content
Here are a few ways to repurpose content:
Create infographics highlighting key points. Creating a short, informative graphic about your article is a great way to build and continue brand awareness while repurposing content.
Create a video to share on YouTube. You can demonstrate a product, show your personality, do a how-to video, etc. A plus about creating YouTube videos is sharing them on your social media channels and embedding them in a blog post.
Create a podcast. Record yourself or hire someone to read your blog posts and record them as a podcast. 
Newsletters. Share your content in a weekly newsletter. 
EBooks. Use a collection of blog posts and turn them into an eBook.
Submit content to social bookmarking sites. Publish your content to your website first. You can submit your content to Medium, Scoop It, and more by including a timeline strategy.
Repurposing content allows you to spread your content across multiple channels and widens your reach. Think through ways that you can maximize exposure and brand awareness.
In conclusion, ZabTech IT Solutions offers comprehensive Multi-Channel Content Marketing Strategy services that can help businesses to reach and engage with their target audience across different platforms.
With our expertise in content creation and distribution, we can assist businesses in developing effective strategies that can boost their brand awareness and drive conversions. Our team of professionals is committed to delivering top-notch services that are tailored to meet the unique needs of each client. Contact us today to learn more.