December 21, 2022

techAdmin

0
Top 8 Tips to Hire a Best App Development Company In Dubai
It would be best if you were here wanting to find the best app development company in Dubai. If this is the case, you are right because this blog post will provide the information if you want to find an app development company in Dubai.
Businesses have two main choices regarding app development: do it in-house or hire an application development company. Both have pros and cons, but most businesses prefer hiring a development company as the better option.
However, to be very much sure about the outcomes and deliverability of the project, there are better choices than random hiring. You need to find one that is experienced, reliable and can deliver the finest quality work on time and within your budget.
Let's Get Started with Tips!
Considerable tips for hiring the App Development Company in Dubai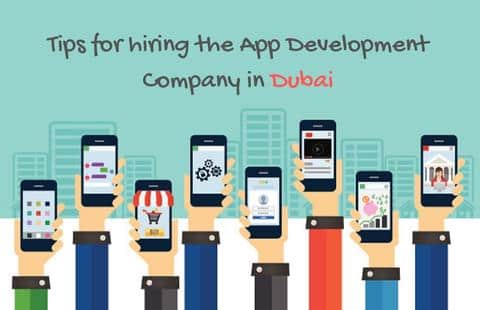 Dubai is one of the most happening places for business startups. Every business owner in Dubai aspires to have a solid online presence, and they know the best way to achieve this is by having a mobile app for their business. 
However, they need help developing an app that can slow their business down. There are many app development companies in UAE, each claiming to be the best. 
How can you know which IT company best fits your app development project? If you want to find a great app development partner in Dubai, follow these steps:
1. Create a Detailed Brief of Your Project Requirement
The initial step on any task is the most crucial. Similarly, the first and most important advice for hiring an app development company is to prepare a concise and comprehensive project requirements brief.
These steps will assist you with imparting your vision to the application designers and gauge the expense and time expected to finish your android application improvement project.
The next point is that the more specific your brief is, the more accurate your research will be.
2. Do Your Research to find the best one
Researching the software company before hiring them is the second most important tip. You can learn much about the company, its projects, and its portfolio by conducting a straightforward Google search.
You can also see what other people say about the business by reading reviews online.
It's essential to investigate the organization as it will give you a thought of their hard-working attitude and whether they can convey what they guarantee.
3. Narrow down your Choices
Once you have done your research, it's time to narrow down your choices and list the right app development companies in Dubai that best fit your project.
Shortlist companies with a good track record and experience developing similar apps. Once you find the perfect list of companies, it's time to dive into their app development portfolios and find the best fit for your project.
4. Checkout their Portfolio
An app development company's portfolio is a great way to get an insight into the quality of their work. A good portfolio will showcase the company's skills and experience in developing similar apps. It will also give you an idea of their design style and whether it aligns with your vision.
You can evaluate the portfolio with the list of project requirements. You can check similar apps and see how the company has executed them. If you understand the technicality of app development, you can also check the tech stacks and code to see if it is up to the mark.
Once done with the research, you can make an informed decision and shortlist some suitable development companies with the best mobile app developers in the UAE.
5. Check References, Testimonials, and Review
Once you have shortlisted a few companies, it's time to contact their past clients and get references. A good company will always be happy to provide you with references from their past clients. You'll have a suitable method of what to expect from them from this.
Along with references, you should also check their testimonials and reviews. These will give you an unbiased overview of the company company's work. You can also look at reviews online to see what others say about the company.
And you think online reviews manipulate. In that case, you can go to business listing websites like Google My Business, Clutch, and Good Firms, where you will find authentic reviews from verified users.
Once you have convincing thoughts about the company, you can proceed to the next step.
6. Check for their Process and Methodology
You must check the company company's process and methodology in this step. A good company will always follow a well-defined process for every mobile app development project.
It will give you an idea about how they work and whether they fit your app. You can also ask them about their mobile app development methodology, app security management, development standards, QA & testing process, and many more to understand their development process in detail.
Once satisfied with the company's process and methodology, you can proceed to the next step.
7. Hire a complete package or Dedicated Developers
It is time to choose whether or not to hire a dedicated developers from the company.
A complete package will include everything from designing to developing to launching your app. This step is viable if you're on a high budget and want the company to take care of everything.
You can hire dedicated developers if you have a bigger budget and want more control over the project. This option will give you more flexibility and allow you to be involved in the app development process.
Once you decide which option is best, it's time to ask for the Contract and start your app development journey!
8. Understand the Terms & Policies in the Contract
The final step is to understand the terms and policies in the Contract. This step is crucial because it will help you avoid any legal issues in the future. Kindly take as much time as is needed to peruse and comprehend the Contract before signing it.
If you have any questions, ask them before signing the Contract. Once you are satisfied with the agreement, you can sign it.
And that's it! You have successfully hired an app development company in Dubai. These tips will help you hire the best team of developers in UAE and create a successful app!
Hiring an app development company in Dubai can be a daunting task. But if you follow these tips, we're sure you'll find the perfect match for your project! Good luck!
Working with perfect teams and the best companies in the industry will undoubtedly elevate your company to new heights and make it a success! Remember, excellence is not a skill. It's an attitude!
If you're looking for the perfect partner to help turn your app idea into a reality, then you have a lot of work to do. But to cut it short – you can directly visit ZabTech Digital Solutions. 
We have a team of knowledgeable and enthusiastic app developers ready to take on your project. We're confident that we'll fulfill every suggestion in the blog post.