March 28, 2023

techAdmin

0
Email Marketing Tools : Boost Your Email Marketing Campaigns
Email marketing is one of the most effective ways for businesses to reach potential customers and nurture relationships with existing ones. It involves sending marketing messages to a targeted group of individuals via Email. However, managing email marketing campaigns manually can be time-consuming and inefficient. That's where email marketing tools come in.
These tools automate creating and sending of emails, tracking their performance, and managing subscriber lists. They offer a range of features such as email templates, list segmentation, A/B testing, analytics, and more. By using email marketing tools, businesses can streamline their marketing efforts and achieve higher engagement rates, conversions, and ROI. In this article, you can learn about some of the best email marketing tools and their essential features.
How is it Important for Email Marketing
Email marketing tools are essential for the success of email marketing campaigns. These tools provide a variety of features and functionalities that help businesses create, manage, and analyze their email marketing campaigns efficiently.
One of the essential features of email marketing tools is the ability to create professional-looking email templates. These templates can be customized to fit a company's branding, ensuring their emails are instantly recognizable and building trust with their subscribers.
Email marketing tools also offer a range of automation options, including scheduling emails to be sent at specific times or triggering automated responses based on subscriber behavior. These automation features save time and ensure subscribers receive timely, relevant content.
Another crucial aspect of email marketing tools is their tracking and analysis capabilities. These tools provide insights into the effectiveness of email campaigns, such as open rates, click-through rates, and conversion rates. This information helps businesses to fine-tune their email marketing strategy and create more effective campaigns in the future.
Overall, email marketing tools are essential to any successful email marketing campaign. They help businesses create professional emails, automate processes, and analyze campaign performance, leading to better engagement and sales.
Due to a lack of readiness to invest in a tool that would simplify the process, many businesses accept this situation. Email marketing tools, on the other hand, can be inexpensive. Numerous free tools for email marketing can help you save time and money.
Continue reading for our list of the best free tools for email marketing: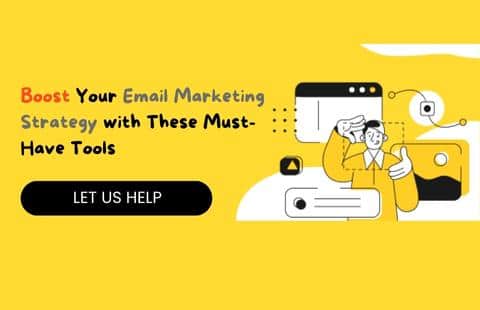 HubSpot Email Marketing is a powerful tool that allows businesses to build, send, and track email campaigns quickly. With HubSpot Email Marketing, users can create visually appealing and personalized emails with drag-and-drop templates, automated workflows, and customized content based on the recipient's behavior.
One of the benefits of using HubSpot Email Marketing is its integration with the HubSpot CRM, which allows for more targeted and personalized messaging to customers and prospects. The tool also offers in-depth analytics and reporting, allowing users to track the success of their email campaigns and make data-driven decisions.
Overall, HubSpot Email Marketing is an effective tool for businesses looking to improve their email marketing efforts and better engage with their audience.
Check out Sender if you're looking for a low-cost, all-in-one marketing platform that lets you efficiently manage SMS and email campaigns from a simple dashboard.
Each plan does not just incorporate liberal admittance to every Premium element, including division and computerization work processes. Still, they likewise offer admittance to a rich library of prepared-to-send popups, embeddable structures, and email pamphlets.
Given the importance placed on their own infrastructure and IP management as well as a strict no-spam policy at the backend, it should come as no surprise that the Sender is one of the few email marketing tools that asserts a strong focus on inbox delivery.
3. MailChimp
MailChimp became well-known in email marketing long ago because it is free to use (albeit in a limited capacity).
This platform makes it easy for beginners to create lists from scratch, import subscribers, customize emails, and track them within the same venue.
You could utilize it to streamline your CTAs to get more endorsers. Additionally, they offer a plethora of helpful email newsletter templates!
4. Sendinblue
Sendinblue is a marketing communication platform with features like customer relationship management, landing page creation, and email marketing tools. Sendinblue email design functions simplify creating an appealing email with over 70 templates.
In addition, you can preview your design to ensure that it appears the way you want on any screen format because all of these templates are responsive.
Using features like A/B testing and segmented recipient lists, you can automate optimizing your campaigns and identifying your ideal audiences after designing your Email.
When designing responsive emails that look great on any device, Benchmark Email is an excellent option for an email marketing tool. You can edit the image on the platform if you need to include pictures in your Email. Using the email editor to send your message effectively, you can add effects, stickers, and text.
You can select from various pre-made templates organized by industry, type, and event. You can even create new emails using the code editor for those more familiar with HTML. The dual view feature makes the entire email creation process more manageable by letting you see your design while editing it.
6. Mailjet
You can create effective email marketing campaigns with the help of Mailjet's user-friendly and collaborative tools. Create responsive emails and personalize pre-designed templates to impress recipients on any device. The platform's real-time collaboration feature makes working together with a group easy.
You can create personalized and pertinent emails for each recipient by utilizing this email marketing tool, which lets you add dynamic content. With this, you can significantly improve your email marketing campaigns' performance. A single dashboard makes it simple to manage your mailing list and integrate the platform with your CRM.
How to Choose an Email Marketing Service Provider
Choosing the right email marketing service provider is essential for any business looking to effectively reach and engage with its target audience. It can be easy to know where to begin with so many options. When selecting an email marketing service provider, consider the following:
Features and functionality: Consider the parts and functionalities most important to your business. Some essential features include email templates, automation, segmentation, A/B testing, and analytics. Please list the features you need and compare them with the services offered by different providers.
Pricing: Email marketing service providers offer a variety of pricing plans. Some charge based on the number of subscribers, while others provide flat-rate plans. Compare the costs of different providers and ensure that your chosen pricing plan fits your budget.
Deliverability: Deliverability is crucial in email marketing. Your emails must land in subscribers' inboxes, not the spam folder. Choose a provider with a good reputation for delivering emails to their intended recipients.
Integrations: Look for a provider that integrates with the other tools you use, such as CRM software, social media platforms, and e-commerce platforms. Integrations can streamline your marketing efforts and save you time.
Customer support: Ensure that the provider offers customer support that is responsive and helpful. Consider the availability of phone support, live chat, and email support.
Reputation: Research the provider's reputation online. Look for testimonials and reviews from previous customers. Check if the provider has been involved in any controversies or legal issues.
Ease of use: Even with limited technical expertise, the platform should be user-friendly and straightforward. Before committing, look for a provider that provides a free trial or demo of the forum.
In conclusion, choosing the right email marketing service provider is critical to the success of your email marketing campaigns. Consider the features and functionalities, pricing, deliverability, integrations, customer support, reputation, and ease of use before deciding. By doing so, you can ensure that you choose a provider that meets your business's unique needs and helps you achieve your marketing goals.
Most free email marketing tools have robust features even if you don't buy a paid plan. Marketers and small businesses should make the most of them while cutting costs and time. Most paid plans are affordable and adaptable enough to meet your needs, even if you need to upgrade to meet the needs of your business.
Check out our email marketing guide & strategies for more suggestions on how to get the most out of your tools if you're starting with this channel.